Save 25% over the cost of a full commission firm.
"For most sellers, real estate commission represents the largest professional fee that they will ever pay during their lifetime. Paying a full real estate commission is probably the biggest financial mistake a seller can ever make."
As anyone who has ever listed and sold a home using a Realtor before will tell you, the most valuable service that they have to offer is exposure to other real estate professionals via the local Multiple Listing Service (MLS). When you sell your home with a full commission real estate company, while commissions are always negotiable, you can expect to pay 6% or more of the selling price for this exposure.
REALTY DIRECT allows sellers to list and sell their homes on the same South Florida Multiple Listing Service (MLS) for only 4.5% commission – a saving of 25% over the cost of a full commission firm.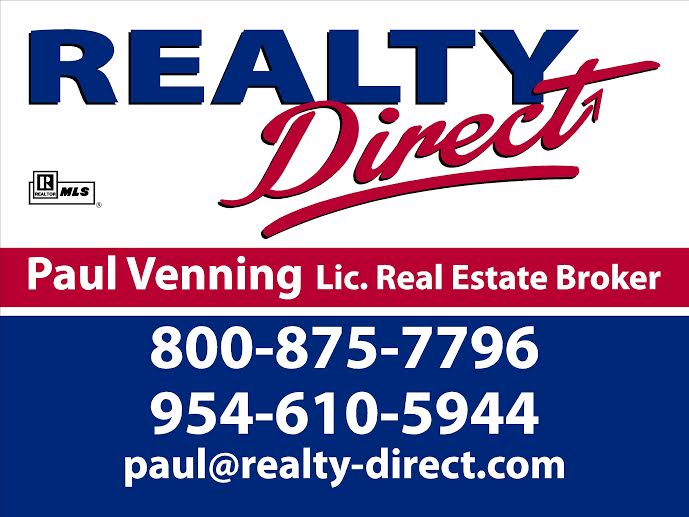 In the vast majority of transactions involving Realtors, two sales agents are usually involved – the one who is lucky enough to have acquired the listing, and the one who has done the hard part of finding the buyer. Although the commission paid by the seller remains unchanged, the seller is effectively paying only 3% to the sales agent that actually sold their home, and an additional 3% to the agent that listed their home.
Our policy is to cooperate with and compensate all other real estate brokers. Consequently, other brokers retain an incentive to show your home and help find a buyer. Cooperating brokers can expect to receive a full 3% selling commission at closing.
By discounting the listing side commission, REALTY DIRECT offers home sellers the same exposure and service for a fraction of the cost of a traditional full commission listing arrangement.
According to Paul Venning, Broker & Designated Realtor with REALTY DIRECT:
"The most common misconception that the home selling public have about our business is that in a typical transaction one real estate agent alone will earn 6% commission when he or she sells a property. In actual fact, we typically only earn half of that  when we sell real estate. The other 3% is paid to the agent who has the listing. This sharing of commission applies whether the agents are associated with the same or different firms."
"The likelihood of the same sales agent handling both sides in the same transaction is rare in our market. There tends to be those agents that specialize in listing real estate and those that specialize in selling real estate. REALTY DIRECT gives home sellers access to those agents doing the selling for less commission."
For example, a client who sells their home for $500,000 can save $7,500 in unnecessary real estate commission with REALTY DIRECT's unique listing arrangement.
"As consumers becomes more informed, less and less home sellers will be willing to pay full commissions."
How can we do that?
Although REALTY DIRECT is a company with substantial resources, it is locally based and remains independent. Not having to pay the huge monthly franchise fees and national advertising costs that so many other organizations have to, REALTY DIRECT is able to discount it's commission, thereby providing its clients with the same exposure as well as tremendous savings at closing.
Additionally, Realty Direct only employs experienced and proven sales associates, thereby eliminating the expense of training and supervising new licensees.
Clients homes are listed on the Realtor Multiple Listing Service (MLS) and multiple websites, including Zillow, Trulia and Realtor.com – the largest real estate related site on the web.